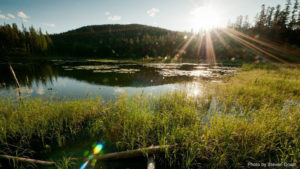 BY TRISTAN SCOTT // DEC 12, 2017, FLATHEAD BEACON. PHOTO BY STEVE GNAM.
A yearlong study to quantify outdoor recreation reveals that playing outside is a major boon to the local economy, with Whitefish Trail users contributing $6.1 million annually.
Relying on intercept surveys, infrared counters, manual verification, Strava accounts, and statewide tourism data, Whitefish Legacy Partners and the Whitefish Convention and Visitors Bureau partnered with Headwaters Economics to better understand the economic ripple effects of outdoor recreation.
According to the report, "Local Benefits from Outdoor Recreation and the Whitefish Trail," by Megan Lawson, outdoor recreation is the number one reason why locals stay and visitors visit Whitefish. Based on 1,794 interviews, the report found that 65 percent of visitors come to Whitefish with recreation as their primary purpose.