Kyle promises to represent all clients honestly and ethically. Kyle's knowledge of real estate in the Flathead Valley is backed by a true love for the outdoors and the area. He is passionate and well informed about the market, which allows him to guide his clients into their dream home or commercial real estate. Call Kyle today at 406.871.4947.
THE FLATHEAD HOME SHOW –
'looking forward to 2019'
Bee Broadcasting brings you an all new show in the real estate market in the Flathead, it's the Flathead Home Show.
Our hosts, Leah Lindsay and Justin Meccia, discuss the real estate market in 2019.
Special guests include Brian Murphy and Nikki Marengo of RE/MAX Rocky Mountain Real Estate.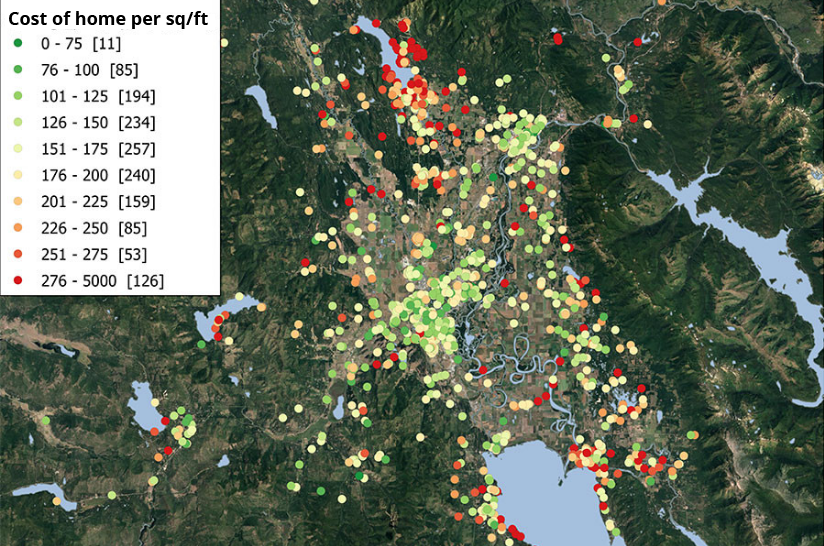 Comparing real estate costs around the Flathead Valley
Reprinted from the Flathead Beacon, March 2019, by Richard Dews
Let's nix the bar charts and look at a map of the past 12 months of single-family residence sales across the Flathead (see graphic). Almost 1,500 units sold during this timeframe, with the lion's share costing between $125 and $200 per square foot. The legend, at the top left of the map, shows the ranges of dollars per square foot by color of map dot. The count of homes sold (by range) appears within the brackets, per range.
The map shows the locations of the properties. Takeaways? Lots of greens near Kalispell and Columbia Falls. Whitefish spendy nearer the resorts. Somers, Kila and Marion show bargains. Broad pricing ranges in Lakeside and Bigfork. You CAN live near a lake affordably.
Read the Flathead Beacon…click here.
Richard Dews is CEO of Glacier Flathead Real Estate, a Flathead-based real estate software and services company.
Below are some beautiful properties in Northwest Montana listed by our office.
Prime Commercial on Hwy 93
6588 Highway 93 South, Whitefish, Flathead, Montana, United States 59937
Prime Whitefish location along Highway 93. Corner lot with excellent access and great visibility. Current building has full commercial kitchen. Fully paved parking lot. Architect designed plans for a three story with a basement office building totaling 20,210 sq/ft. Zoned WB-2.
100 Acres on Middle Road
1605 Middle Road, Columbia Falls, Flathead, Montana, United States 59912
100 Acres with amazing meadow and mountain views. Beautiful landscaping including fruit trees and wildlife abound. This property includes a shop, barn and charming 5 bed/2 full bath farmhouse. Private setting yet convenient location off of Middle Road...This is a must see! More photos coming soon.

Visiting Glacier Park in Spring
Spring is a beautiful and quiet time to be in Glacier National Park, however park visitors must be more self sufficient for there are very few services open in the park in the early spring.
Although some services adjacent and inside the park are open year round, most of the concession services and services adjacent to the park reopen for the season in late May to early June. During shoulder seasons, lodging and other guest services are available in gateway communities, such as in Whitefish.
Bring your snowshoes, cross country skis and snow boots so you are prepared to enjoy lingering snow. Day hikes are also popular in spring. And don't forget the camera!

Snowpack Overview 2019
Snowpack conditions generally improved across Montana during the month of January, but some regions still remain below, to well below normal for snowpack on February 1st. The first two weeks of the month were dominated by high pressure in many basins east of the Divide, while western basins saw snow trickle in during the first week, then transitioned to high pressure during the second week. The bulk of the improvements in snow pack totals were from the storm system that began during the third week of January, where significant snow totals fell in central basins along the east of the Divide, and in southwestern and south-central Montana. Snow pack in some of these regions was well below normal and this storm helped to improve conditions from January 1st.
---
Find snow conditions on Whitefish Mountain: visit their snowcams
https://skiwhitefish.com/webcams/