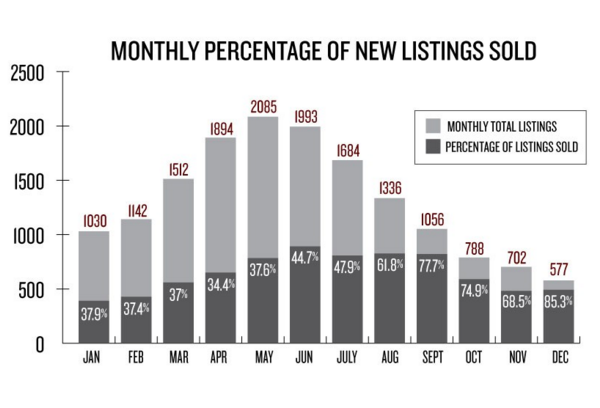 What these numbers suggest is that the best time to have your home on the market is during the fall
BY JIM KELLEY // NOV 3, 2015 // LATEST HEADLINES, NEWS & FEATURES
Editor's Note: This is a new column produced by local appraiser Jim Kelley that will run each week online and in the Beacon
Conventional thought is that the best time to market residential properties is in the spring and summer. This chart shows the last five years history of the relationship between new listings and sales on a monthly basis. Over the last six years there have been 15,799 new residential listing in Flathead County and 7,717 sales which represents 48.8 percent of the new listings are sold. Over that same six-year period the numbers show that show that between 34.4 percent and 37.9 percent of new listing sell in the first five months. In June the percentage of sales starts to increase, then the largest percentage sell in December.
What these numbers suggest is that the best time to have your home on the market is during the fall when many listings are expiring. If you really want to sell, then plan to put up with the hassle of having it on the market during the holiday season.

Jim was born and raised in Western Montana where his family was in the timber industry in Condon, Seeley Lake and Helena. After graduating from the University of Montana's business school in 1975, he worked in the banking industry in Missoula, then moved to Kalispell in 1977 as a staff appraiser for First Federal Saving Bank (now Glacier Bank). In 1981 he started Kelley Appraisal and has since built an extensive data base of economic and real estate-related data on northwestern Montana. Over the last 15 years, he has published annual reports on the Flathead Real Estate Market and been a guest speaker on numerous occasions for various groups in the Flathead. When not in the office you can find him racing sailboats on Flathead Lake, supporting the University of Montana Grizzlies or taking advantage of the Flathead's outdoor recreational opportunities.