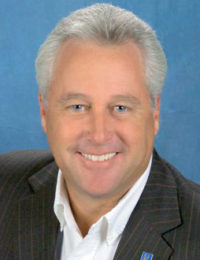 Spring is almost upon us and I can't wait! Although it's not over yet, it's been a fairly mild winter here in Northwest Montana. Not too many really cold days and not a bunch of snow to shovel in town. Lots of snow in the mountains should provide plenty of water this spring and summer for some great fishing and recreating all around the state of Montana. The Flathead Valley alone is at 103% of our annual snowfall already this winter with a couple months to go. The other good reason to celebrate spring, the golf courses will be open soon. Whitefish has the only 36-hole golf course in the state and there are 7 golf courses within an hour of Whitefish.
With spring comes opportunity in our Real Estate market. If you are thinking about selling this could be the best time ever to sell your property. Inventory is low, interest rates continue to stay historically low for buyers and the promotional opportunities for brokerages to get your property in front of buyers has never been better! Call me today with any questions you have about Montana Real Estate or if I can help you buy or sell your piece of Montana. Cheers to spring, bring it on! Brian Nicodemus, 406.250.7311.
Whitefish takes proactive approach to pandemic
WHITEFISH PILOT // MARCH 19, 2020
Mayor John Muhlfeld on Thursday afternoon declared a state of emergency for the city related to the coronavirus.
Muhlfeld said the declaration allows the city to activate all emergency and disaster response plans within Whitefish and it also provides the ability for the city to recoup any funds related to emergency response plans related to the coronavirus.
"I want everyone in Whitefish to know that I have full faith and confidence in our emergency response plan and you should as well," he said in a video released by the city.
The order also gives Whitefish the authority to control ingress and egress to all or part of the city, and reaffirming the ability to require employees that perform nonessential city services to work remotely.
"While this is definitely not a time to panic, it is a time to take bold action because what we do immediately will have long term implications," Muhlfeld said.
Flathead County on Thursday issued an order by the county health officer closing bars, restaurants, casinos, athletic centers, indoor recreation facilities and theaters to the public. The order does not prevent restaurants from operating on a limited basis to provide take-out services, but they must close dining room facilities. The order goes into effect at 6 a.m. Friday, March 20.
Whitefish Market Heats up for 2020
January sales rose 16.5% in 2020 to 254 homes, compared to 218 in 2019 and 212 in 2018. January pending home sales ticked up 12% to 244 sales, showing a strong market for the new year.
Single Family Homes: January Sales / January Pending Sales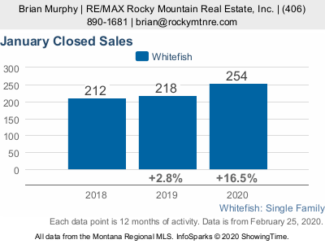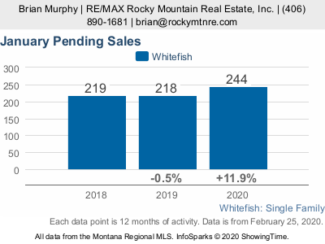 Condos and Townhomes: January Sales / January Pending Sales
Whitefish condominium and townhome sales also increased in January of 2020 to193 units, a 23.7% increase over 2019. Pending sales are up 19%.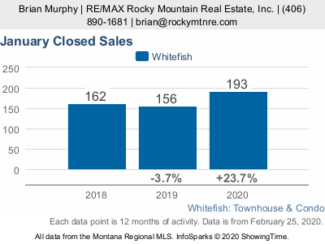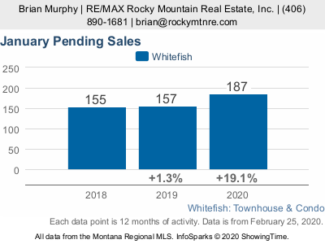 Whitefish single family homes, condos and townhomes supply
The Whitefish market has only a five month supply of inventory as of January 31, 2020. Sales in 2020 show that buyers are paying 98% of list price on the 447 units sold so far. The average days on market of January listings was 51 days from list to sale.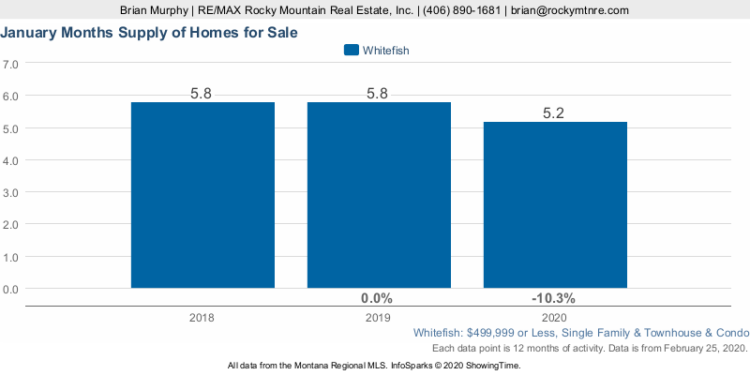 Local Restaurants Dish Up to Charity
Café Kandahar's Andy Blanton spearheads effort to churn out prepared meals for local food bank while Whitefish Community Foundation awards grants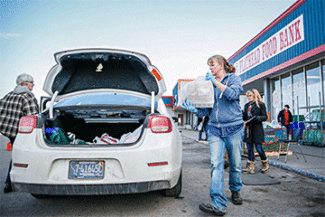 As the Flathead Valley's dining establishments pare back core services in response to emergency orders designed to slow the spread of coronavirus, local restaurants have begun dishing up prepared meals to food banks struggling to keep up with skyrocketing demands.
It's a win-win arrangement for commercial kitchens trying to keep their pilot lights on and food banks whose inventories are dwindling rapidly amid the public health crisis.
To seed the partnership, the Whitefish Community Foundation awarded an initial $10,000 grant from its COVID-19 Emergency Response Fund to local restaurants willing to participate, including Café Kandahar and the Whitefish Lake Restaurant during the initial phase.
"We've all switched our operations to takeout only, but we have the pieces in place to do a lot more," said Andy Blanton, executive chef and owner of Café Kandahar in Whitefish. "In the restaurant industry, we are masters of crisis. We are ready and willing to mobilize and get food to people in need, and this could help, especially if more restaurants get involved. It helps us a little with self-preservation and it helps the community at a time of need."
Looking for a beautiful Montana home, land and commercial property for sale near Whitefish? Call Pete Francisco for Whitefish real estate.

New records set for January snowfall in northwest Montana
A steady stream of moisture form the Pacific yielded a significant amount of snowfall in the northwest river basins between December 30, 2019 and February 1, 2020. Many Mountain SNOTEL (snow telemetry) sites would report the highest, or second highest January snow totals on record. Although basins west of the divide would receive the most snowfall, the entire state benefited from the weather patterns during the month, with all river basins increasing their basin snowpack totals since January 1. All major river basins in the state are now near or above normal for snowpack for this date.

Visiting Glacier Park in Spring
Spring is a beautiful and quiet time to be in Glacier National Park, however park visitors must be more self sufficient for there are very few services open in the park in the early spring.
Although some services adjacent and inside the park are open year round, most of the concession services and services adjacent to the park reopen for the season in late May to early June. During shoulder seasons, lodging and other guest services are available in gateway communities, such as in Whitefish.
Bring your snowshoes, cross country skis and snow boots so you are prepared to enjoy lingering snow. Day hikes are also popular in spring. And don't forget the camera!