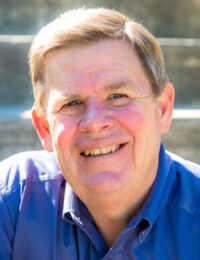 My family has lived and worked in Arizona for four generations. As a young man, I competed in Professional Rodeo, earning Rookie of the Year, and continue to pursue the sport for pleasure. I worked with my father in the family business as a funeral director. Helping individuals and families through the most difficult times in their lives gave me great satisfaction and taught me great respect for the industry. After 20 years of funeral service and acquisitions, my wife and I and our six children moved to Whitefish, Montana, working together to build an America Quarter Horse breeding and boarding operation. We fell in love with the lifestyle of Montana; the friendly people, hunting, fishing, and everything Montana has to offer. Having been involved in several different opportunities in my life including ranching, farming, and acquisition, real estate emerged as the perfect venue for me to assist a family in fulfilling their Montana dream. Sharing this beautiful country and way of life has become my passion and calling. Whether it is a buyer's first home in Whitefish or a ranch under the Rockies, my commitment is deep. Give me the opportunity to help you find your dream.
Real Estate Today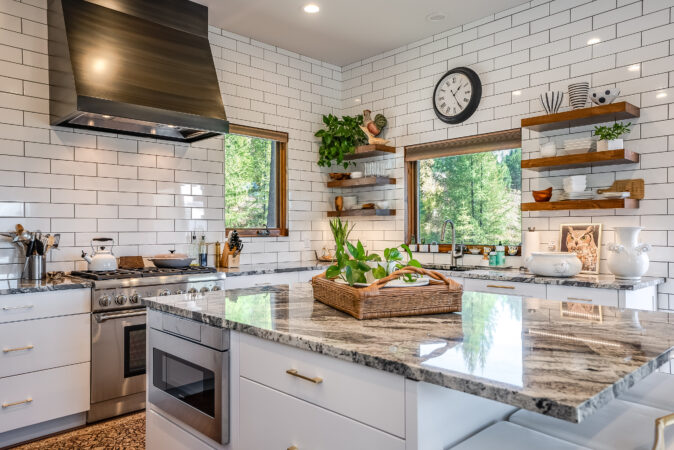 By
Corrine DeGolier Lanfear|Realtor
®️
|
December 2020
Age-Old Real Estate Selling Tips to Ignore
Homeowners planning to sell their home tend to get unsolicited advice from every direction. "Do this," "don't do that"; it can be difficult to decipher the good from the bad advice. As homebuyers become more informed and market-savvy, knowing which age-old advice to
ignore can be important. Here are some adages which should be retired immediately.
• ?Spring is the best time to sell – While spring is traditionally when home sales tick upward, the real key to selling is inventory levels. Low inventory means more chances your home will be more desirable, and this can occur any time of the year.
• ?The first offer is always the best – While all offers should be considered, don't feel pressured to take a sub-par offer just because it was the first.
• ?Open houses sell houses – Not necessarily. Only 2% of homes sell as the direct result of an open house, according to the National Association of Realtors®. People are more attracted to virtual tours and online photos during these times. Consider a "Virtual Open House," or scheduled showings on a specific weekend giving a certain end date that all offers must be in by. This will still generate the "buzz" around your property and create some urgency for perspective buyers.
• ?Price high so there is room to negotiate – Homebuyers are more sophisticated about pricing and will not bother with overpriced homes.
• ?If you don't want to make repairs then lower your price – Unless you market your home as a fixer-upper, buyers expect the home to be in reasonable condition and a low price might not be enough to encourage an offer. Have your Broker or Real Estate Agent pull a Comparable Market Analysis, considering items such as condition of the property, square footage, amount of rooms, and area the home is located when considering how to price. Most agents have a list of trusted vendors they can suggest for you to make the needed repairs. Small repairs can make a big difference in the final price.
• ?You must update your kitchen to sell – Buyers do love renovated kitchens, but keep in mind that you typically recover only 81% of the cost of a remodel when selling. Try these simple ideas instead: Keep it clean and uncluttered, possibly a coat of paint or new hardware on the cabinets or an updated backsplash can make a big difference. This will leave the buyer to update to their preferences, which most prefer to do when making a home purchase.
Selling a home is a major life decision. Before you begin the process of listing your home, do your research and make sure the advice you rely on is valid in today's changing environment and you pair up with an agent you can trust.
Here's What's Happening

Picture Credit | HUNTER D'ANTUONO
Mask Up, Ski Down
Opening week off to a smooth start at Whitefish Mountain Resort, with the ski area earning praise from 'super seniors' for its safety precautions
Although Whitefish Mountain Resort's outdoor operations will run similar to pre-pandemic times, with lift line corrals set up roughly the same, a major difference is that skiers and riders are required to wear face coverings while waiting in line for the chair, as well as while loading and unloading.
That might seem like a straightforward requirement, particularly given that face coverings tend to be standard attire for skiers and snowboarders. But mask requirements during the pandemic have become the subject of a polarizing national debate, and Whitefish Mountain Resort, as well as the city of Whitefish, have gone to great lengths to educate the skiing community on the importance of heeding the requirement this winter… read more
Looking for a beautiful Montana home, land, or commercial property for sale near Whitefish? Call Brain Murphy, your Whitefish RE/MAX real estate Broker at (406) 862-9000 or (406) 890-1681
Real Estate Market Trends
The average sales price in Whitefish, Flathead Valley as a whole, Kalispell, and Columbia Falls of a single-family residence in November for the past 3 years is depicted in the graphs below. The only downward trend in NMAR's latest data is the average number of days on market for Flathead Valley homes—yet another indicator of a bustling real estate market.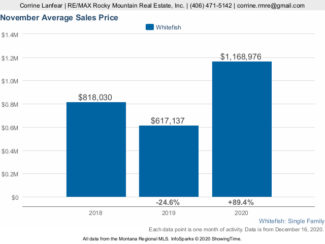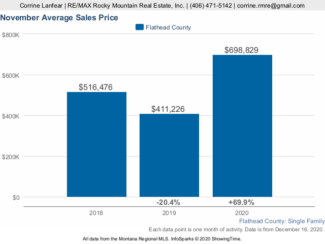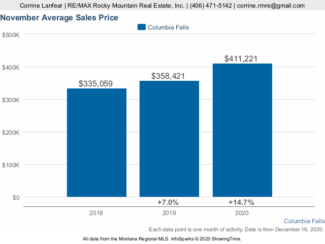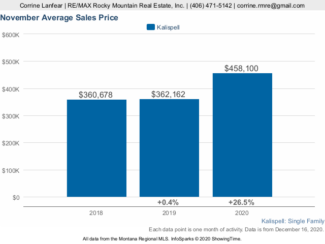 A luxury bed and breakfast and farm to table style Bakery and Café featuring produce, meats etc from farms in the area. More info…
28 Lupfer Ave
Whitefish, MT 59937
(406) 730-2666
Recipe of The Month

Here is a simple recipe you can cozy up to:
Ingredients:
✔️ 4 cups apple cider
✔️ 1 bottle (750 ml) red wine of your choice
✔️ ¼ cup honey
✔️ 2 cinnamon sticks
✔️ Juice, zest, and peel from 1-2 oranges depending on your taste
✔️ 4 cloves
✔️ 3-star anises
Directions:
✔️ Combine all ingredients except the orange peel in a large saucepan.
✔️ Bring to a boil and then let the mix simmer on low heat for 10 minutes.
✔️ Pour mulled wine into mugs and add the orange peel for garnish.
Recipe adapted from Food Network.