Join us in creating a lifetime of treasured memories, Montana style.

Ponder for a moment…
Whitefish is located in northwestern Montana, at the northern most tip of the Flathead Valley, just 50 short miles south of the Canadian border and 25 miles west of Glacier National Park. The city was incorporated in 1905, and named for the native fish harvested from Whitefish Lake for centuries.
Whitefish was also named by Money magazine as one of the best 10 places to vacation in North America. USA Today lauded Whitefish as a perfect place to train for the Ironman Triathlon World Championships.
Golf Digest has named the Flathead Valley as one of the "50 greatest golf destinations in the world" with breathtaking splendor on every course. Having 10 public golf courses within an hour's drive from Whitefish, and mild year round climate, the Flathead Valley has become a premier golfer's destination.
Being able to have access to golfing destinations like the Flathead Valley is every golfer's dream. Not only can it offer a place of relaxation to help them to escape from the reality of life for a couple of hours, but it can also help them to improve on certain elements of the game like their swing. A destination like this, and the best golf launch monitor you can find, (view here for some recommendations) can provide you with accurate statistics to help you to become the golfer that you always thought you were. So, what are you waiting for?
Not only do we have renowned golf courses, we have been dubbed as one of the 25 best ski towns in the world by National Geographic Magazine. Vogue recently published an article entitled "Destinations of the month…Ski Towns USA." Whitefish, MT was in the top five selected, surely a place worth visiting.
Flathead Valley highlights…
Our altitude is friendly, requiring little in the need for "altitude adjustment." Elevation of the valley floor is only 3,000 feet and the top of the Big Mountain summit is 6,817 feet. Whitefish Lake is seven miles long and 232 feet deep. We have 15+ miles of shoreline on Whitefish Lake.
Here in this beautiful part of the state, our weather averages a high of 30 in January with a low of 15. Our average snow fall is 74 inches and a depth of 12 inches. During our summer months, such as in July, you'll find our daytime temperatures in the high 80s with nighttime lows in the 50s. Our average precipitation is 22 inches.
We have no poisonous snakes or plants, which makes hiking and other outdoor adventures in our valley much more pleasurable.
Our airport is the largest in Montana and is served by five airlines with direct flights to seven major hubs around the United States.
Some demographics include: the median age is 39, the median household income is $49,049, our high school graduation rate is 91% with a college graduation rate of 26.3%.
Nationally, Montana rakes 6th in standard achievement scores administered in public schools. Whitefish students outscored their peers nationally at every grade level and in every subject area in the standard achievement tests.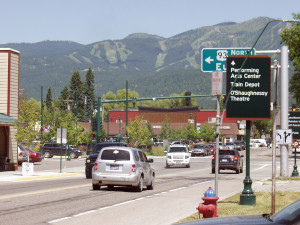 The possibilities for having fun are endless…
How much can someone do to have fun and stay in shape? Here's a Flathead Valley list of possibilities; an abundant snowfall for skiing, snowmobiling, dog sledding, ice skating and ice fishing. You'll likely find tens of people Ice fishing on the larger lakes in the area, as that's when the fish, like perch and pike, for example, hold the most weight as they've put it on to survive during the really cold periods. So it's definitely worth having a go at if you get a chance. If you do get the chance to give it a go, then you should make sure that you have the right ice fishing lures with you, if you go in empty-handed then you probably won't enjoy yourself as much as you should. As well as all that, there's also the addition of world-class hunting and fishing, hiking, camping, biking, sailing, canoeing, boating, water skiing, wind surfing, horseback riding, whitewater rafting and public golf courses all offer a variety of recreation for you year round. So, whether you have always wanted to give american river rafting a go for yourself, or you are already a whitewater professional, there is plenty to keep you occupied.
While some of us have a hearty appetite for golf and skiing, the Flathead Valley feeds the cultural needs as well.
The O'Shaughnessy Cultural Arts Center in Whitefish offers year round entertainment, including live theater, dance, music and poetry reading. Alpine Theater Company, Montana's only equity professional theater, stages presentations in the new Whitefish Performing Arts Center. The Bigfork Center for Performing Arts is only a half hour drive south. Winter is celebrated with a gala Winter Carnival. The Flathead Jazz Festival and Festival Amadeus are the largest summer music festivals in Northwest Montana.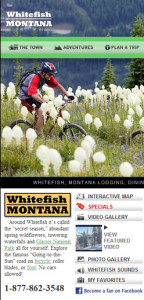 Need help planning your activities?
For help in planning your activities, visit these websites: