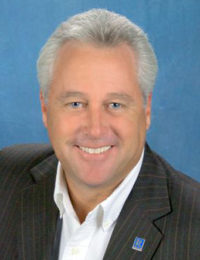 May is Support Your Local School District month here at RE/MAX Rocky Mountain Real Estate. As active Real Estate professionals we understand the importance of education and the value it brings to our clients and communities. That's why Brian Nicodemus, Brian Murphy, Nikki Marengo, Scott Bull & Pete Francisco are donating 10% of Every commission they earn from listings created in the month of May to the school district of the seller's choice at closing. Sellers can donate to the school district they are moving to or moving from, either way it's a win for local students and teachers. Here are two radio commercials we are running this month to promote our Support Your Local School District event. Call me today at 406-250-7311 or Google RE/MAX Rocky Mountain Real Estate to reach me or one of our participating agents. Experienced, Professional Real Estate service and get your property SOLD, thanks to the real estate investors top search terms we have been able to grow our real estate business!
a
Tom Krustangel
I have known Brian for more than 20 years and have absolutely the highest regard for him as a person and as a professional. When it came time for my wife and to find another place more suited to our needs as we aged, Brian stepped up; found the place; and helped negotiate a very good deal for us. He is the best!!
Source: realtor.com
Real Estate Market Trends
By Richard Dews // April 24, 2019 // Flathead Beacon
Flathead active home market comparison, last four quarters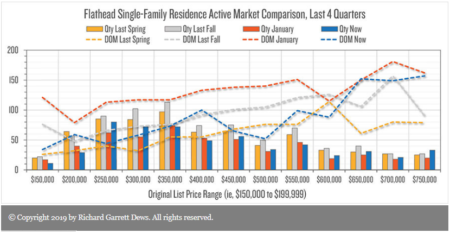 A third of the way through spring, how do the quantities of actively listed homes compare to prior quarters (see chart)? I've charted the quantities (bars) of homes active last spring (gold), last fall (grey), this January (orange) and now (blue) – by original list price ranges in $50,000 blocks. Findings: 1) availability of lower-priced homes keeps falling, 2) $250,000 to $349,999 home availability recovering from winter pull-back, 3) $350,000 to $749,999 about as thin as winter.
I also charted the median Days on Market (DOM), which are the number of days since listing. These are represented by dashed lines of the same color as their counterpart quantity bars. The following findings should be useful whether you are realtors Lynchburg based or someone looking for the best time to sell your home. Findings are as follows: 1) substantial shrinkage in time-on-market since January, 2) $200,000 to $499,999 fairly parallel to the DOM of last fall, 3) higher-end homes on market longer than those last spring.
Richard Dews is CEO of Glacier Flathead Real Estate, a Flathead-based real estate software and services company.
Senators push Amtrak for answers on future of Empire Builder in Montana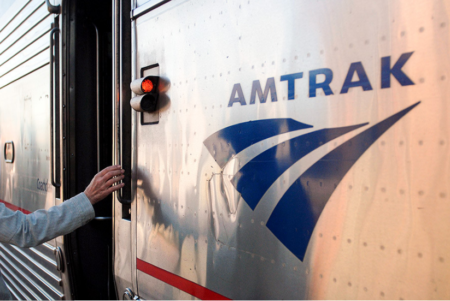 BY JUSTIN FRANZ // APR 19, 2019
Daines calls any proposal to alter long-distance service "troubling," Tester writes letter to Amtrak president seeking answers
Montana's two U.S. senators are pushing Amtrak officials for answers about the future of long-distance passenger trains, including the Empire Builder, which stops twice daily in Whitefish.
Earlier this year, the Trump administration proposed drastically slashing Amtrak's budget and having states pay more for passenger rail service. Amtrak officials have also been "reassessing" its long-distance routes to see if it can reduce the amount of federal money it needs to subsidize the services. Few details have been provided about what, if any, changes might be made or when those changes would be implemented.
"Amtrak is trying to reassess how best to address the needs of rural communities and maintain mobility but also think of ways to reduce (federal) subsidies," said U.S. Secretary of Transportation Elaine Chao during a hearing last month.
Below are some beautiful properties listed by Brian.
Where are the plows today?
See where the plows are today on Going to the Sun Road in Glacier National Park. Also see plowing photos posted by the crews. Click here to go to nps.gov.